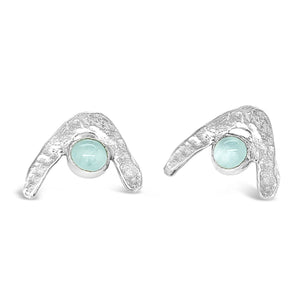 Boomerang Wave Earrings in Sea Foam Aquamarine
Regular price $144.00 Sale
Catch a wave anytime with these solid sterling silver Boomerang Wave Earrings. Each pair features an ocean-hued Sea Foam Aquamarine set in a fine silver bezel, then nestled in a textured wave of solid sterling silver.

A sterling silver clutch over notched earring posts ensures that your earrings will stay securely in place, not fall inside your blouse, get stuck in your hair, or disappear into the otherwise deep, mysterious abyss. Do you feel the waves yet? Just put on a pair of these earrings, and float away.

Measurements: Just under 3/4" wide and high with 6mm gemstones.